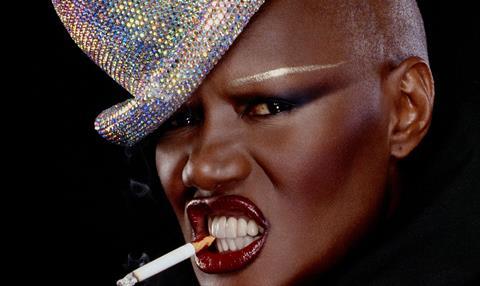 Acclaimed singer, songwriter and actress, Grace Jones most recently released 'Hurricane,' a new album of original material, in 2010. Produced by Jones and Ivor Guest, 'Hurricane' has received widespread praise in the U.K. and Europe where it was released last year. The tracks "Williams' Blood" and "Corporate Cannibal" have emerged as hits, as has the new video for "Corporate Cannibal" directed by Nick Hooker. Last July, Jones performed in a new show at The Hollywood Bowl in Los Angeles and the Hammerstein Ballroom in New York City. Collaborating with acclaimed Academy Award-winning costume and production designer Eiko Ishioka, Jones debuted songs from the new album for U.S. audiences.
The shows received overwhelming praise from audiences and critics alike. Daily Variety wrote ."..a commanding Grace Jones provided a finely tuned display of humanity" and ."..the return of Jones was warm and uplifting." The LA Times ran the headline "Grace Jones bowls over the Bowl" and the New York Times reported that Jones was "lithe, fierce and solid." Rolling Stone wrote "So many performers are said to be larger than life, but the show biz cliché has never been truer than it is for Grace Jones…the crowd roared as if they'd seen the second coming."
Born in Jamaica before relocating to Syracuse, New York with her family, Grace Jones embarked on a successful career as a model in New York City and Paris. In 1977 Jones secured her first record deal resulting in a string of dance-club hits including "I Need A Man" and her acclaimed reinvention of Edith Piaf's classic "La Vie En Rose." The three disco albums she recorded, 'Portfolio' (1977), 'Fame' (1978) and 'Muse' (1979), generated considerable success in the market and established her as a major recording artist.
During this period Jones became a fixture on the international club scene and was often seen at New York City's famed nightclub Studio 54. Jones also became a muse to Andy Warhol who photographed her extensively and created a series of iconic portraits of her.
Towards the end of the 1970's Jones adapted the emerging New Wave music to create a different style for herself. Working with Island Records producers Chris Blackwell, Alex Sadkin and Compass Point All Stars, she recorded the critically acclaimed albums 'Warm Leatherette' (1980) and 'Nightclubbing' (1981). These included reimagining's of songs by Sting ("Demolition Man"), Iggy Pop and David Bowie ("Nightclubbing"), Roxy Music ("Love is the Drug"), Astor Piazzolla ("I've Seen That Face Before (Libertango)") and Tom Petty ("Breakdown").
Both albums included tracks co-written by Jones herself including "A Rolling Stone," "Feel Up" and most notably, the post-disco dance track "Pull Up to the Bumper" which spent seven weeks as #2 on the U.S. Billboard Hot Dance Club play chart and became a Top 5 single on the U.S. R&B chart. Parallel to her musical shift was an equally dramatic visual makeover, created in partnership with artist Jean-Paul Goode, with whom she had a son. Jones adapted a severe, androgynous look with square-cut hair and angular, padded clothes. The cover photographs of 'Nightclubbing' and 'Warm Leatherette' as well as her subsequent albums exemplified this new identity
Source:https://www.gracejones.com/about